ACL Reconstruction
15 year old soccer sustained a non-contact injury to her right knee. She heard a pop and the knee quickly swelled up. Clinical exam revealed laxity of the Anterior Cruciate Ligament (ACL), which was confirmed on MRI.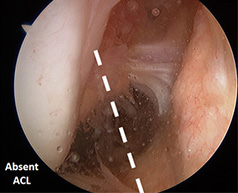 The arthroscopic image (above) reveals the absence of the ACL. Reconstruction with 2 of her own Hamstring tendons (Autograft) proceeded.

Tunnels in the Femur (above) and Tibia at the native ACL origin and insertion was performed.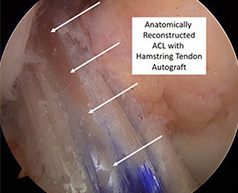 The image above shows the final reconstruction and examination confirmed competency on Lachman and Pivot Shift testing. Extensive physical therapy ensued and the patient safely returned to soccer at 9 months post-operatively.
Shoulder Dislocation
15 year old male sustained a left shoulder dislocation while playing basketball.
The patient's shoulder was reduced in the ER and he was discharged home in a sling.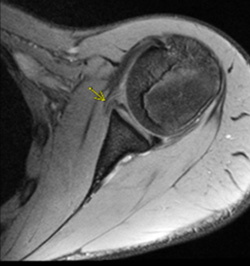 An MRI revealed tearing of the antero-inferior Labrum (i.e. Bankart lesion) which is known to predispose adolescents to recurrent instability. The family elected for conservative management and his pain improved with physical therapy. Unfortunately, the patient had another dislocation while playing sports several months later and then decided to undergo surgical repair of the Bankart tear.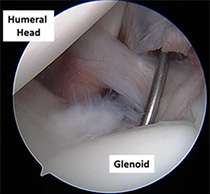 The arthroscopic image above demonstrates the probe falling off the front surface of the shoulder due to incompetence of the anterior Labrum.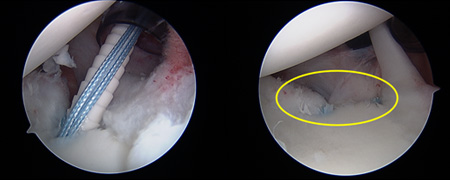 Sutures were placed around the anterior capsule and Labrum and anchored to the Glenoid. Following fixation, the anterior bumper effect of the Labrum was restored. Physical therapy resumed post-operatively and the patient returned to sports by 4 months with no further shoulder instability episodes.
Trampoline Forearm Fractures
8 year old male presents to the ER via Ambulance with an isolated left forearm deformity after a fall at a Trampoline facility. Examination revealed a puncture wound on the volar surface of the forearm.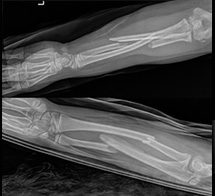 Radiographs revealed a displaced mid-shaft left both bone forearm fracture. Since the Ulna fracture was open, the patient was taken urgently to the OR for irrigation and debridement, open reduction and intramedullary fixation.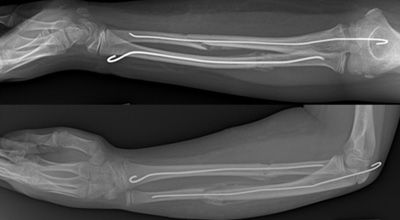 After 3 weeks in the long arm cast, excellent healing is already seen. A short arm waterproof cast was applied for an additional 3 weeks.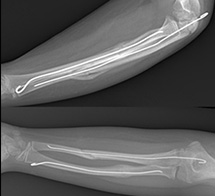 The patient returned to gym/recess by 2 months and subsequently had the hardware removed since he was still growing.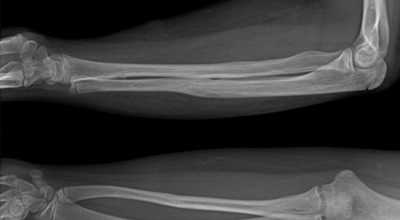 Osteochondritis Dissecans of the Knee
10 year old female presents as a second opinion on chronic left anterior knee pain. An MRI of the knee revealed a large Osteochondritis Dissecans (OCD) lesion of the lateral aspect of the medial femoral condyle. OCD lesions occur when the subchondral bone is unhealthy and can no longer support the overlying articular cartilage. Pediatric patients have a better prognosis than adults. After a lengthy conversation, conservative measures including limited weight bearing, activity modification, and physical therapy was recommended.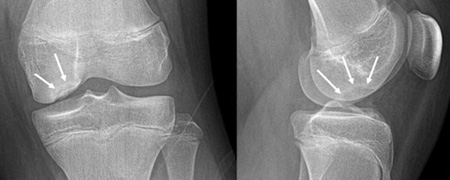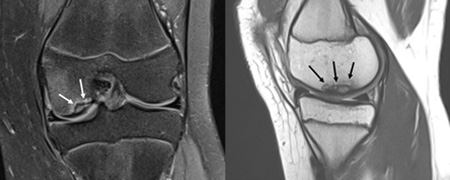 Patient returned a year later, still with intermittent symptoms that interfered with her return to activities including dance and soccer. New Xrays and MRI (above) revealed no significant improvement in the OCD lesion. Arthroscopy was offered to stimulate healing.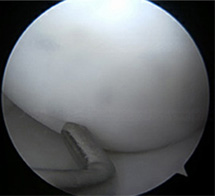 A diagnostic arthroscopy of the knee revealed the articular surface was intact. Upon probing the lateral aspect of the medial femoral condyle (image above), it was soft consistent with poor subchondral bone underneath.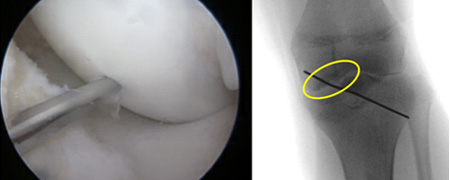 Under direct visualization, and confirmed with intra-op fluoroscopy, multiple drill holes were performed with a tiny pin. These create new vascular channels that allow ingrowth of new bone into and replacing the sick subchondral bone. Post-operatively, the patient was toe touch weight bearing with crutches for 1 month and returned to light activities at 3 months.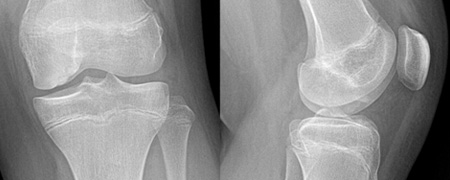 At 4 months after surgery, the patient had returned to soccer with resolution of her left knee pain. Repeat radiographs (above) confirmed appropriate healing of the OCD lesion.
Ankle Growth Plate Fracture
Almost 12 year old female twisted her left ankle ice skating with pain and inability to ambulate. Initial radiographs in the ER were interpreted as no fractures. She was discharged in a splint and non-weight bearing with crutches for a presumed ankle sprain.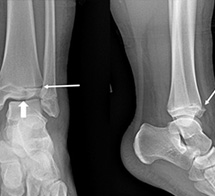 Patient presented to my office 5 days later and repeat radiographs revealed a displaced distal Tibial intra-articular fracture known as a Tillaux fracture.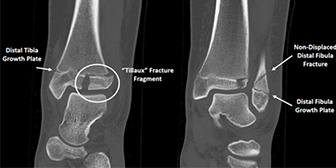 A CT scan revealed a Salter-Harris Type III growth plate fracture of the Tibia as well as a non-displaced fracture of the fibula just above the growth plate. Due to the displacement at the joint surface, she was taken to the OR.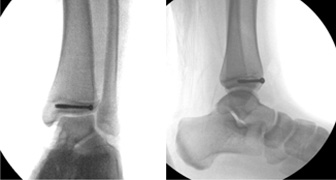 An open reduction and internal fixation was performed with one well positioned screw below the growth plate in the Epiphysis of the distal Tibia. The patient was placed in a cast and made non-weight bearing with crutches for 4 weeks.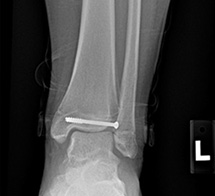 At 4 weeks post-operatively, the patient was transferred into a boot and commenced weight bearing. She attended physical therapy and resumed gym 1 month later.
Thumb Fracture
15 year old male was slashed in the right hand while playing lacrosse. The patient was seen initially at an Urgent Care who contacted me. After reviewing the radiographs of his thumb, he was referred to the ER for further treatment.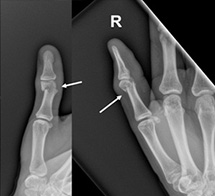 The patient had an unstable and angulated fracture of the proximal phalanx neck in his dominant right thumb.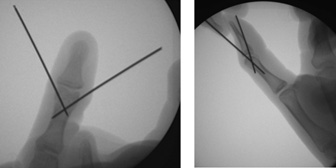 The patient was taken to the OR for a closed reduction percutaneous pinning of the finger. An anatomic alignment was quickly obtained and held with 2 tiny pins. The patient was placed in a short arm thumb spica cast. The pins were removed in the office at 3.5 weeks and he was fit with an "Evo Shield" thumb splint for immediate return to in season play.
Tibia Fracture
14 year old male was playing baseball when he slid into second base, twisting his left leg. He heard 2 cracks and was taken by ambulance to the ER.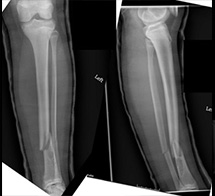 Radiographs revealed unstable Tibia (just above a Non-Ossifying Fibroma) and Fibula shaft fractures. The patient was indicated for intramedullary fixation of the Tibia that would respect his growth plates.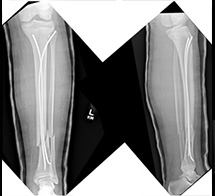 Through two small incisions just below the knee, Titanium elastic nails were introduced into the Tibia, improving the fracture alignment. The patient was placed in a long leg cast for 3 weeks, at which time the patient was placed in a boot. Weight bearing in the boot commenced at 5 weeks post-operatively.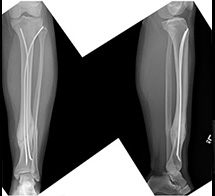 The patient returned to sports by 4 months post-operatively and the nails were routinely removed at 9 months following his injury.
Football Ankle Fracture
17 year old male injured his left ankle playing high school football with an obvious fracture on his initial radiographs.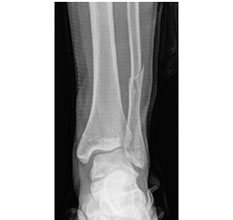 The presence of significant medial sided ankle pain and swelling was concerning for a combined ligamentous injury. The patient was taken to the OR where a stress fluoroscopic image confirmed the need for operative repair.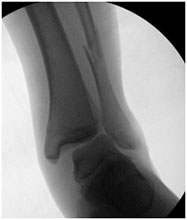 Surgical fixation of the fibula with a plate and 7 screws was supplemented with a button suspensory fixation device to stabilize the syndesmosis/deltoid ligamentous tears.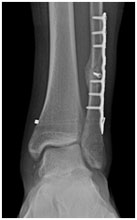 Less than 3 months later, the patient returned to wrestling.
Dancing Knee Meniscus Tear
18 year old male twisted his knee dancing with medial sided pain and popping.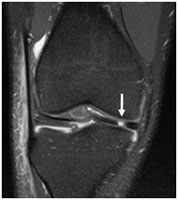 MRI confirmed the presence of a "parrot beak" flap tear of the medial meniscus. Such an unstable cartilage injury requires surgery.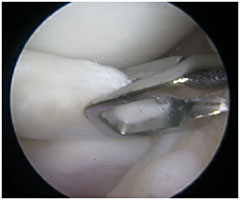 A quick and minimally invasive outpatient arthroscopy removed the damaged meniscus.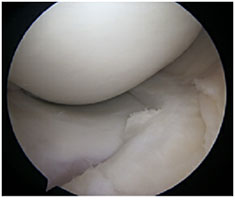 The patient had no pain and full active range of motion at the one week post-operative visit and was cleared to return to all activities without restriction.
Snowboarding Clavicle Fracture
16 year old male landed incorrectly while attempting to land a flip snowboarding with isolated right shoulder pain.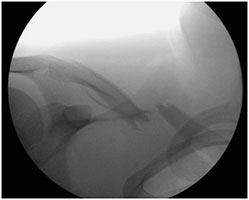 As the patient intended to return to competitive bowling and football, the family elected for surgical repair.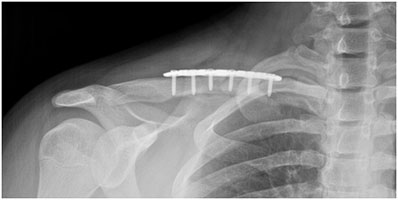 The patient returned to gym work outs at 4 weeks post-op and was cleared for contact football practice at 6 weeks post-op.
Handball Knee Fracture
15 year old male jumped up while playing handball and felt a pop in his right knee and was unable to stand up after.
The patient sustained a fracture through the proximal tibia growth plate, at the insertion of the patella tendon, that extended into the joint.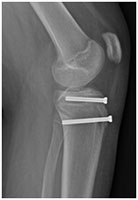 Open reduction and internal fixation with 2 stainless steel screws was performed that evening. After brace immobilization and completing physical therapy, the patient was cleared for sports at 3 ½ months post-operatively.
Gymnastics Patella Dislocation
12 year old female sustained a patella dislocation while attempting a back walkover in gymnastics with significant pain and swelling.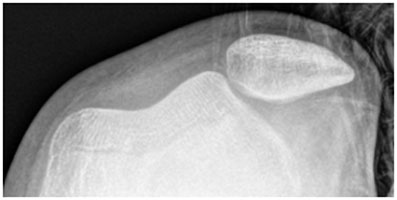 Reduction of the fixed patella dislocation was performed in the ER.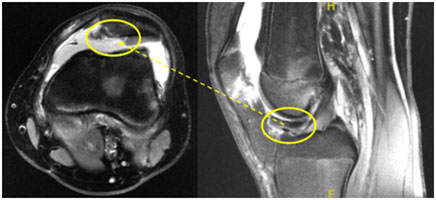 An MRI revealed a large cartilage defect that had broken off of the patella.

An arthroscopy confirmed the patella cartilage defect and the loose body was retrieved.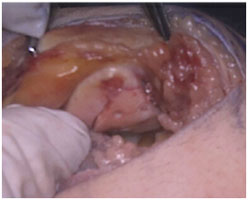 An open reduction and internal fixation of the chondral fracture using bio-absorbable darts was performed. Agrowth plate sparing Medial Patello-Femoral Ligament (MPFL)was reconstructed upon closing.
Lacrosse ACL Injury
15 year old male twisted his knee playing Lacrosse with a "pop" and swelling.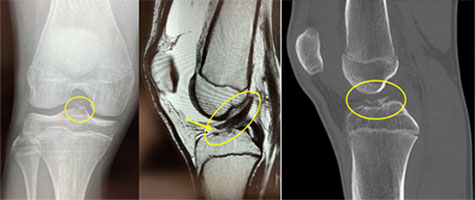 Initial radiographs were suspicious for a thin avulsion fracture of the tibial spine. MRI confirmed the Anterior Cruciate Ligament (ACL) was intact, but had ripped off of its insertion. CT scan confirmed the presence of an egg-shell of bone at the bottom of the ACL.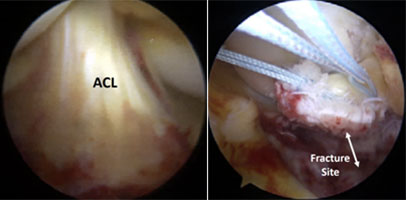 An arthroscopy confirmed the integrity of the ACL. Sutures were placed in the base of the ACL and drill tunnels were placed into the fracture site. Fixation was accomplished with a bio-absorbable anchor.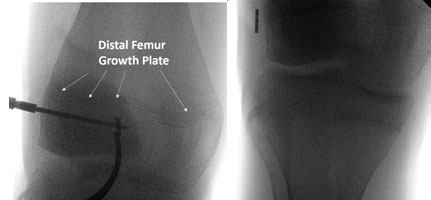 To expedite rehabilitation of this ACL repair, an "Internal Brace" (Arthrex) was introduced below the growth plate, as confirmed on fluoroscopy, and fixated with a button.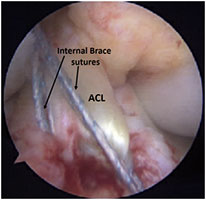 The ACL has been preserved with an anticipated return to sports at 3 months (much quicker than the typical 9 months following an ACL reconstruction).
Soccer Elbow Fracture
12 year old female fell while playing soccer with an isolated elbow injury. Patient was seen at a local Urgent Care and referred to me.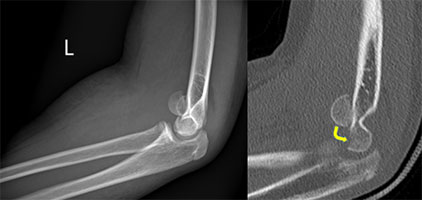 Radiographs and a CT demonstrated a displaced Capitellar Shear fracture (an intra-articular fracture of the distal humerus).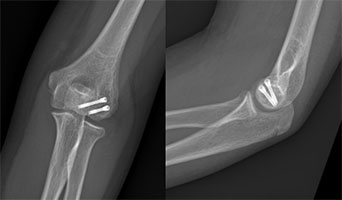 Open reduction and internal fixation with 2 titanium headless compression screws was performed. She began physical therapy after <2 weeks of splint immobilization. She had full active range of motion and returned to gym/sports 2 months after surgery.
Monkey Bars Fall Elbow Fracture
5 year old boy fell from the monkey bars at school with isolated deformity of the right elbow.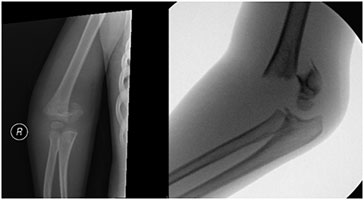 The patient was brought by ambulance to the hospital where radiographs revealed a displaced right Supracondylar Humerus fracture. This fracture is the most common operative elbow fracture in kids and occurs just above the elbow joint and growth plate.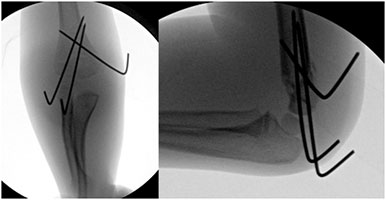 The patient was brought to the OR where a minimally invasive procedure called a Closed Reduction and Percutaneous Pinning stabilized the fracture in anatomic alignment. The patient was placed in a long arm cast and discharged home the same day. The cast and pins were removed in the office 4 weeks later. The patient had full restoration of range of motion and a well healed elbow 3 weeks later and returned to play without restrictions.
Did You Know that Pediatric Bones Can Remodel After a Fracture?
3 year old male fell off of a bed and initially presented to an outside hospital 10 days earlier for a wrist fracture. The on call Adult Orthopedic Surgeon "didn't feel comfortable" treating a patient that young and simply applied a splint.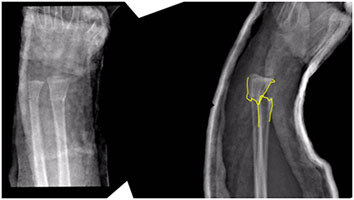 Radiographs in the plaster splint revealed a dorsally displaced distal radius fracture. Examination of the patient out of the splint revealed no clinical angulation and since the fracture had already began to heal, the patient did not have any significant pain. I recommended to stay the course and apply a long arm cast and allow the body to mend itself.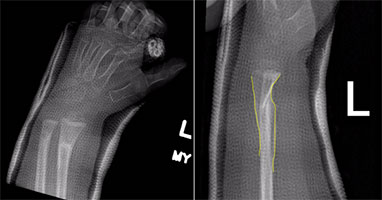 At 6 weeks from the time of the injury, the cast was removed since the fracture was healed.
6 months later, the radiographs show complete remodeling of his prior fracture.
Pedestrian Struck by a Car with Femur Fracture
11 year old male was riding his bike when he was struck by a car. Fortunately, he only sustained a single orthopedic injury.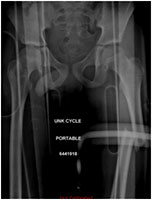 The radiograph above shows the displaced mid-shaft left femur fracture.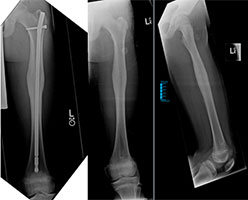 The patient was taken to the OR where a locked intramedullary rod was inserted through small incisions. The fracture healed rapidly and because of his significant growth remaining, the rod was subsequently removed.
Hand Fracture at Adventure Park
17 year old female got her hand wrapped up in a rope while visiting an adventure park on a school trip. The patient tended to her painful and swollen hand with an ace wrap and ice. After 3 weeks, the patient noted a deformity and presented for evaluation.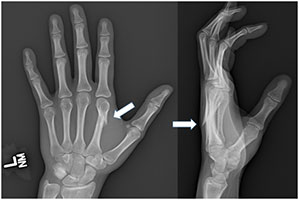 Radiographs revealed an angulated left 2nd metacarpal shaft fracture. Open reduction and internal fixation would be necessary to correct the obvious hand deformity and improve grip function.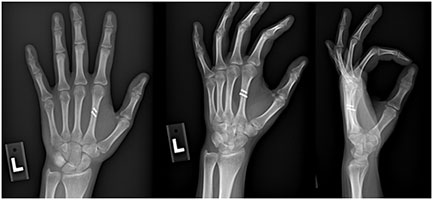 The fracture was repaired with two tiny screws and brief immobilization in a cast. The patient had full active range of motion in her left hand by 6 weeks.
Wrestling Elbow Fracture
13 year old male sustained an elbow injury during a take down in wrestling. Referred by an adult Orthopedist for Pediatric Orthopedic consultation.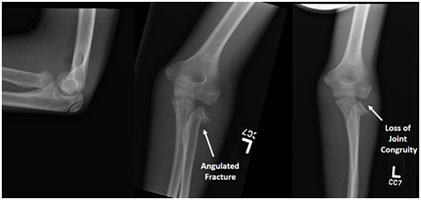 Xrays of the left elbow revealed a significantly angulated radial neck fracture with loss of congruity of the Radio-Capitellar articulation. This requires a reduction.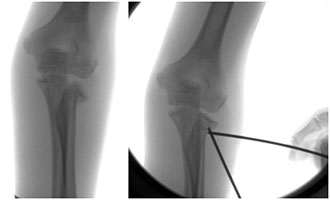 Attempts at a closed reduction under anesthesia were unsuccessful, but a percutaneous reduction was achieved using two pins to "joystick" the radial head back into the joint.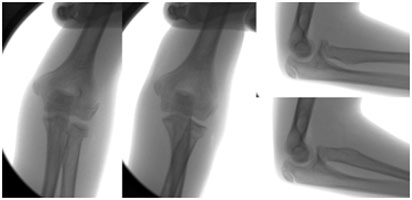 The stability of the reduction was verified by obtaining fluoroscopy images in full elbow flexion/extension and forearm rotation. The patient was casted for 2 weeks, then transitioned to a splint to allow early range of motion under the supervision of a physical therapist. He returned to sports at 6 weeks.
Fall off of a Swing with Bilateral Wrist Fractures
8 year old male fell off of a swing with bilateral wrist deformities.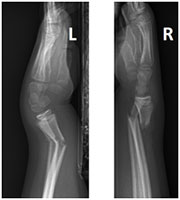 Radiographs reveal an angulated Left wrist fracture and a displaced Right wrist fracture.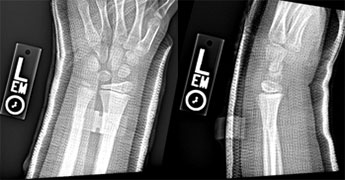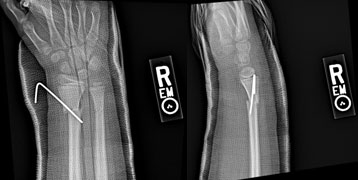 The patient was brought to the OR where a closed reduction with manipulation of both wrists was performed. Percutaneous pinning of the Right distal radius was added to enhance stability. Casted were applied and the child went home the same day.


Two weeks later, the pin was removed in the office and waterproof short arm casts are applied. By 6 weeks, both wrists are healed and the patient returned to gym and recess.
Trampoline Elbow Fracture
8 year old female injured her elbow after falling on a trampoline. Outside radiographs revealed a displaced lateral humeral condyle fracture.

Open reduction and fixation with a single stainless screw was performed to allow early range of motion in this fracture pattern that is prone to delayed osseous healing.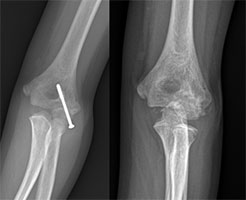 The screw was removed 4 months later as the fracture had healed, and surveillance radiographs one year after the injury revealed maintenance of appropriate growth.