Tarsal Coalition Causing Chronic Foot/Ankle Pain
15 year old female twisted her ankle and continued to have foot/ankle pain despite rest, boot immobilization, physical therapy, and nonsteroidal anti-inflammatories.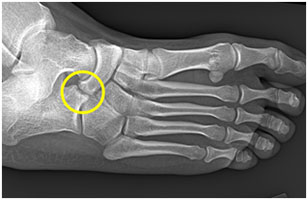 Radiographs reveal a Calcaneo-Navicular Tarsal Coalition (congenital abnormal connection between two bones in the foot) that restricted normal subtalar range of motion.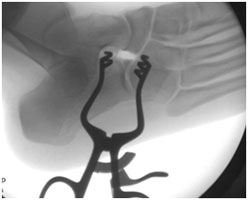 The family elected for surgical resection of the coalition. Post-operatively, the patient was weight bearing in a boot and resumed physical therapy. The patient was pain free by 2 months after surgery and was cleared to resume all activities.
Congenital Pseudarthrosis of the Distal Fibula Causing Chronic Ankle Pain with Sports
13 year old male with chronic, atraumatic lateral ankle pain with running sports. After being seen by a General Adult Orthopedist, he was referred to an Orthopedic Oncologist for a biopsy of "irregular bone" causing pain. Results of the biopsy were normal, but the patient continued to have pain and dysfunction with activities. Parents sought a third opinion. This time with a Pediatric Orthopedic Surgeon.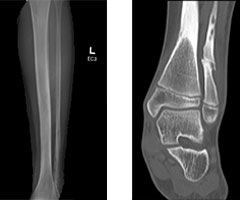 Xrays and CT revealed a fracture non-union with atrophic features and post-surgical changes from the prior biopsy.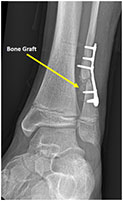 Open reduction and internal fixation was supplemented with Iliac Crest (pelvis) bone graft to aid in his fracture healing.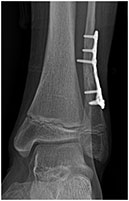 The patient was ambulating, pain-free, in a boot by 1 month post-op and was cleared to return to sports by 2 ½ months post-op. The patient was subsequently diagnosed with a rare condition called Congenital Pseudarthrosis of the Fibula, explaining his unusual fracture and bone quality.
Bilateral Clubfeet Discovered on Pre-Natal Ultrasound
The parents just had a routine pre-natal ultrasound and were surprised by the results. Their second child will have bilateral clubfeet. Without an appointment, they came to office for a consultation. I reviewed the standard of care for Idiopathic Clubfeet; the Ponsetti Method. Reassured that their baby will have a proper start at life, I next saw them back after he was born.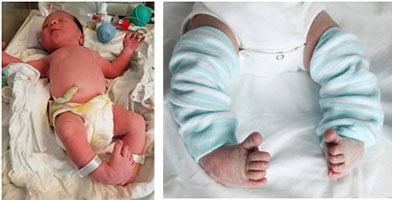 Over the course of several weeks, Mom and Dad brought him in to the office for weekly casting to progressively stretch both feet. This culminated in a minimally invasive procedure in the OR to lengthenboth Achilles.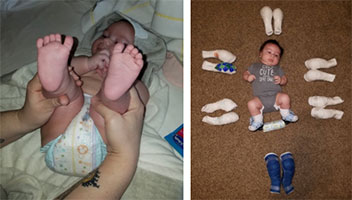 After the final cast was removed, bracing was necessary to prevent recurrence until, and even after, he started to walk (on time).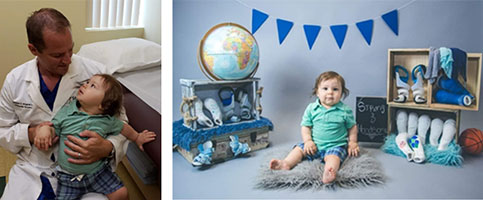 Routine follow up visits ensured he continued to growth and develop normally.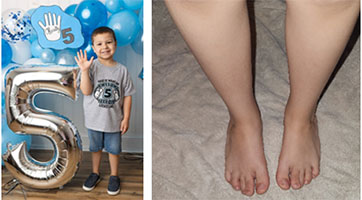 He is doing great and loves to play baseball!
"We can never begin to thank you for all you have done for him. Looking back at those baby pictures is crazy. You made this journey easy for scared stressed parents from the moment I met you walking into the office pregnant with no appointment. You overheard me talking to the front desk and you pulled me into an office and explained the process. Thank you again." – Patient's Mother
***Clinical pictures and quote are included with the permission of the family.
Crooked Finger after an Injury One Month Earlier
12 year old male, right hand dominant, "jammed" his rightlittle finger playing basketball and presented 2 ½ weeks later to a Hand Surgeon with a "crooked finger", but resolved pain. The Hand Surgeon recommended seeing a Pediatric Orthopedic Surgeon.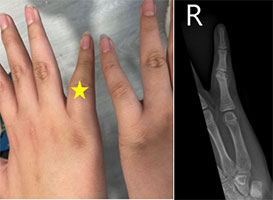 The patient had an abduction deformity of the right little finger and radiographs revealed a mal-uniting proximal phalanx neck fracture.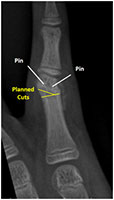 Pre-Op planning is critical as the finger is small and correction is critical.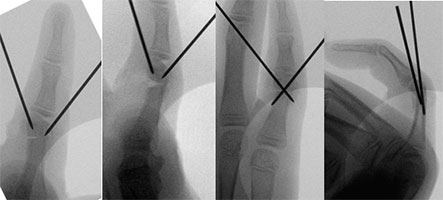 Through an incision just over half an inch, the osteotomy is accomplished, and correction is maintained with 2 pins that will be removed in the office after being in a cast for 4 weeks.
Lower Extremity Limb Length Inequality
11 ½ year old male presented for evaluation of "uneven hips".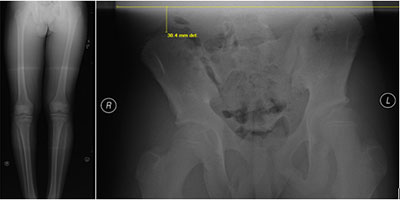 Standing radiographs revealed the left lower extremity was approximately 3cm longer than the right lower extremity. An assessment of the patient's potential growth remaining indicated that slowing the growth on the long (Left) side could allow the short (Right) side to "catch up".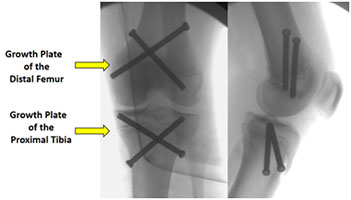 A minimally invasive procedure called Epiphysiodesis introduced 4 screws, each through an incision approximately 1 cm in length, crossing the growth plates around the left knee to halt future growth. The patient returned to sports and activities within 1 month and was followed until skeletal maturity.
Bowlegged Knees
12 year old male presented for evaluation of "Bowleggedness".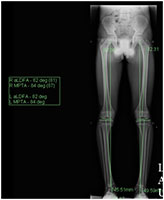 A standing joint survey radiograph of the bilateral lower extremities revealed bilateral proximal tibialvarus deformities. Persistent bowleggedness into adulthood is associated with premature knee osteoarthritis. Since the patient was still growing, they were offered "Guided Growth".

In Guided Growth, small plates/screws are inserted over the growth plate to slow growth on one side, thereby allowing the opposite side to catch up. After several months of growth, the radiographs reveal normalization of the lower extremity mechanical axes. If the patient is still growing, the plates need to be remove to prevent over-correction into "Knock-Knees".
Toddler with a "Bent" Thumb
2 year was noted by the mom to be unable to extend her right thumb for "some" time. Clinical evaluation revealed the inability to extend the interphalangeal joint of the right thumb, but the left thumb had normal range of motion.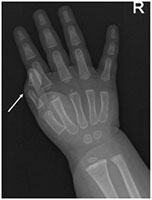 Radiographs revealed normal development of the bones with sign of injury. Note that the thumb is flexed in the radiograph. The patient was diagnosed with a Congenital Trigger Thumb. Pediatric patients can develop triggering of fingers for reasons that are different than in adults, and are treated primarily surgically.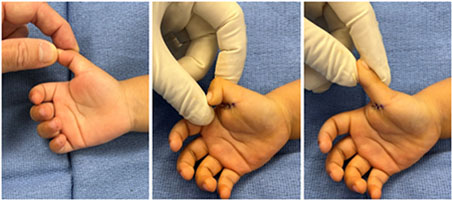 The clinical pictures show the extent of thumb extension pre-op. Through an incision less than 1cm in length and taking less than 10 minutes, full range of motion has been restored. Three absorbable sutures are placed and a soft bandage is kept in place for 1 week. The child can use the hand immediately post-operatively for play.
Birth Trauma Cases
The process of delivering a newborn can be traumatic for the mother and/or the baby. The goal is to expeditiously deliver the infant so as to avoid neurologic events associated with prolonged deliveries.
Clavicle fractures frequently occur during a vaginal birth because the infant's shoulder can get stuck on the mother's pelvic bone. By fracturing, the clavicle briefly shortens thereby allowing the baby to pass through the birth canal quicker. Also by fracturing, it poses less risk of stretch to the Brachial Plexus (the complex network of nerves that exit the neck and heads down the arm.

Fortunately, Clavicle fractures in newborn heal and reliably remodel rapidly (above left image reveals a displaced mid-shaft left clavicle fracture on the day of birth and the above right image reveals copious callus formation by 2 weeks of age).
The second most common birth trauma fracture is of the Humerus (i.e. the arm bone). Gentle traction on the baby's upper extremity is sometimes necessary to assist extraction, but can result in a fracture.
By simply using a Bobby pin to hold the wrist portion of a long sleeve shirt to the opposite shoulder as an "Infant Sling", the arm is immobilized for no more than two weeks (central xray with copious fracture healing). By 2 months (right xray), the deformity has remodeled normally.

A device used to treat infants with hip dysplasia (i.e. Pavlick Harness) immobilizes the leg and after only 3 weeks (right xray), there is abundant healing of the fracture.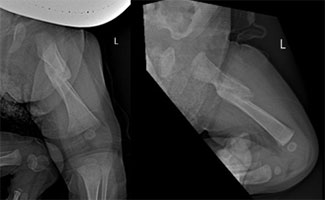 By 2 months of age, extensive remodeling is already noted.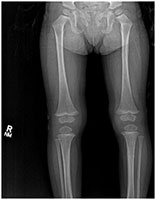 By 2 years of age, there is no evidence of the birth fracture and the standing xray reveals symmetry of the mechanical axis and limb length of the lower extremities.